(the story continues)
A tribute by Cayelin (f.n.a. Carolyn)
My intent in spreading Merilyn's ashes was to do so as consciously and purposefully as possible. It just so happened I was assisting in setting up a Shamanic Astrology gathering that was planned at Faywood Hotsprings, between Deming and Silver City, New Mexico. The event was created to celebrate the Autumnal Equinox and the new Standing Stone Circle recently and intentionally built to honor the connection between land and sky. When this gathering was first planned in January of 1998, I had no idea the activation would also involve the ceremonial spreading of mother's ashes inside the Stone Circle.
This standing stone circle was built by Elon Yurwitz, the owner of Faywood, and had been under construction for at least two years. The year before when Daniel Giamario and I gathered there with a group for the Winter Solstice, the Standing Stone Circle was not yet complete. Four stones still needed to be set in place.  By mid 1998 the 12 outer stones had all been placed. The circle was complete. As the Autumnal Equinox approached I began to realize the synchronicity of the timing of my Mom's death and the opportunity I had to use her ashes as a part of the ceremonial activation for this new stone circle. Suddenly, I knew the standing stones were calling me to bring her ashes there.

The Standing Stones
The pieces were coming together. During the summer of 1997 I traveled to Scotland with a group led by Daniel Giamario and Anyaa McAndrew. It was a shamanic journey connected with my livelihood and soul's work. This trip was part of my continuing experiential education in working with the magical link between the land and sky. In addition, going to Scotland also took me back to my genetic roots (and vast Celtic ancestry) so I knew this was more than an experiential expansion of my knowledge about the As Above, So Below mysteries. This journey was also connected to healing my family and collective lineage. I had been consciously working with this awareness some years before and this helped me to create a clear intention statement for this sacred journey to Scotland. Here is part of that statement.
This journey further activates my own ancient lineage deeply connected to the stones and land of Scotland, and my own connection to the As Above, So Below mysteries. The mystery and magic, with in these lands and stones, further deepen my process of remembering. I journey to connect with the ancient wisdom. I journey to connect the past and future in the here and now. I journey to bridge what was, with what is, and what is emerging, in a way that creates a fresh, vital aliveness, and a strengthened sense of conscious co-creation with the great mystery. I give thanks that it is done, and it is so, and I am deeply grateful. Blessed Be!
What happened in Scotland was beyond my wildest imaginings. I experienced deep ancestral and personal healing. These events are worthy of their own story, but for now what is most important is how my connection with the Standing Stones enlivened within me an even greater awareness of their importance for the planet and in our lives. Being with these massive structures, placed thousands of years ago, stirred feelings in me I don't know how to describe. (Here is another short writing that kind of sums it up only it was when I was in Peru in 2002).
I felt the stones had called me back to Scotland and would continue to work through me even after I left. What I find astonishing is the newly built Standing Stone Circle at Faywood carries a similar energy as the ancient Scotland stone circles. The Faywood Stone Circle, built at the turning of a 26,000 year age, feels like a portal for the incoming energies. I found myself  feeling the energy of the Faywood gathering and the stones as the Equinox event grew closer. I felt the calling of the Stones and the opportunity to gather in ceremonial celebration at the turning of the season was supporting  a move between the worlds, between the ages, between realities, and between paradigms.
In ancient times, Standing Stone circles were built to track the seasonal cycles, marking these energetic shifts and connecting the Great Above with the Great Below. Some believe the ancient stone circles were literally gateways to other worlds, to other times and other places. Some say they were used to link energy grids on the earth and were also used to relay messages from place to place. Today, many are remembering the great mystery teachings the Standing Stones carry, and therefore remembering our living relationship with Earth and Sky.
The Faywood Standing Stones were carefully placed on the land to capture special features of the celestial cycles and thus are alive with purpose, acting as a connecting link between the celestial and the earthly. The Great Above connects with the Great Below through us and through the stones. It is time to remember and re-awaken to what we already know and the stones act as a powerful catalyst. Gathering in ceremonial celebration in the Standing Stones gave us a unique opportunity to be living witnesses and participants in dreaming the emerging myths and symbols for these times.
Thoth and the Twelve and the One
About two weeks before the Autumnal Equinox I personally experienced a powerful initiation awakening another level of remembering connected to my ancient Egyptian lineage. (This Egyptian connection was also deepened in Scotland where at the great Callanish circle I was given a ring with unique symbols from Karnak, Egypt.)
In early September, 1998, Thoth, a prominent Egyptian God appeared to me in a vision. First it I am not one to have visions and second I didn't know much about who Thoth was, until I later researched him and discover his links with The As Above, So Below mysteries and Alchemy. My encounter with Thoth enlivened a memory of a council I identified as the Council of 12 Plus One. It later occurred to me that the Standing Stone Circle at Faywood Hotsprings is an outer world expression of this council. At Faywood, 12 stones surround a single stone in the center.
In The Emerald Tablets Of Thoth  (an unexpected gift given to me right after my Thoth encounter) I came across a single passage that let me know I was on the right track. A few days before leaving for Faywood I opened The Emerald Tablets with the sense I would find something about 12 plus 1. Nothing appeared at first, so I left the book open and later looked down to find, in the fourth paragraph on page 69, Thoth describing the key to "Shamballa" saying "…open thou the way of the twelve and the one, so I may pass to the realm of wisdom…"
Ceremonial Intent
Even before I had discovered these links I knew I was taking my Mother's ashes to be a part of the new stone circle. I felt these experiences were emerging to help me understand the significance of this action. Through my Magadalenes sister Gina Dawn, the universe asked me to write another intention statement about the Standing Stones of Faywood. Gina and I are profoundly linked in the commitment to evolve the lineage of humanity, and have each played important roles for each other in catalyzing our understanding about how this is emerging for us. Here is part of that intention.
I decree the dissolution and transformation, of the old fear based, limiting patterns held by my genetic lineage and the collective lineage. What no longer serves dies and is surrendered to this death process and nourishes the new life unfolding.
I felt by placing Merilyn's ashes with the stones I was symbolically working with the transformative, nourishing power of the ashes. Literally ash is used as fertilizer for growing healthy plants. What was… then becomes the food and nourishment for what is coming into form. The intention statement goes on to say…
Like the bones that remain from the ancient past, I claim the structural wisdom of the ancient lineage of all humans to support and uplift this turning of the great wheel.
When we spread my mother's ashes I was surprised to find  many bits of bone.
The mystery and magic emerging at this great turning of the Galactic Wheel is coded into these stones. We are remembering our place within the big picture and the great mystery. I am linked with the ancient wisdom of past, present and future. The stones are our allies and assist us in a collective transcendence of the ancestral wounds, limitations, and fears of the past. These old patterns no longer need be carried by anyone.
Their death brings us new life and we honor their passing and the gifts these patterns have brought to us. Through the alchemical death of these patterns a healing vibration moves out in all directions—past, present and future. A new vibration, a new vision and a new consciousness resonating with wholeness, love and freedom is activated and vitally alive within each of us now.
Past, present and future unite in a healing dance, spinning and weaving the beautiful magic of pleasure and love into our reality with each step. And the remembering, the wholeness of who we truly are is deepening, expanding and uplifting us all. It is done. With Gratitude all life rejoices. Blessed Be!
Again in this context for me my Mother's ashes represented the symbolic death of these patterns and the birth of a new life fulfilled in love and joy.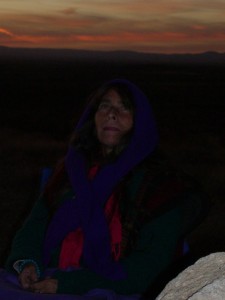 Sacred Sister Arrives from Hawaii to help
As if the universe wanted to further confirm my sense of what do to with my Mother's ashes, my best friend and sister of my heart arrived unexpectedly from Hawaii to accompany me to the stones. I have known Indigo for more than half of my life. Merilyn always was amazed at how alike we are. She thought of Indigo as her daughter too, and Indigo thought of her as another Mom figure in her life. Indigo's mother died of cancer two years before my Mom, and so Merilyn's death hit her deeply. On the first day of The Nine Days of Mother Divine (a Vedic celebration), Indigo and I called in our Mothers from the center of the stone circle.
Underneath the dark, velvety, vast, expansive Southeastern New Mexico skies we sang, prayed, stated our intentions, read poetry (written by Indigo) while honoring and celebrating our Mothers' lives and their deaths. We went to each stone and called in the archetypal essence of the stone. Then we placed Merilyn's ashes in a circle around the stone, before proceeding to the next stone.
When we finished spreading all her ashes around the 12 and around the one in the center, we stood hand in hand looking up at the moonless, star filled night. Indigo asked our Mothers for a sign that they were well pleased with our ceremony and that it was complete and in divine order. She asked them to send us a shooting star that we would both see, thus confirming for us it was a message from them. Less than two minutes passed before a bright streak lit up the sky. Indeed, we both saw it and danced with glee. Shooting stars had been very few that night and we did not see anymore as we made our way back to where we were staying. It was well after mid-night when we laid down to sleep. We were surprised to realize we had been in ceremony for more than three hours.
What we did that night was the first of three personal activations that took place with the stones. We honored the stones with Merilyn's ashes the first night. The next day I honored them with salt from the paradise island of Kauai. And on the third morning I honored them with water from sacred sites around the world. The next evening, on the Equinox, the group gathered for a ceremonial activation of the stones. Synchronistically, we had exactly 12 people in our circle, plus one who went to the nearby City Of Rocks park to link with us from there. Again, I feel the language I know at this time, can not adequately capture the magic and the mystery we all co-created. The great wheel continues to turn as does our awareness turn with it. We are the dreamers, dreaming what is coming into form. We are dreaming the dream into reality.
The ceremonial spreading of Merilyn's ashes as it all took place is was a gift. It feels like an important fulfillment of my commitment to honor, acknowledge and evolve my own ancestral lineage along with the collective. I am deeply grateful for all my ancestors personal and planetary. Each one has journeyed before us paving the pathway that allows us the opportunity to be where and who we are now. May we all remember to honor our ancestors and our lineage with love and compassion as we embrace the evolutionary journey before us. I feel my Mom's transition from this life to the next has accelerated and assisted in this evolutionary process. And I am grateful to her for my life and these experiences.