Note: I, Cayelin Castell (f.n.a. Carolyn Brent) wrote this story for my Priestess Community shortly after my Mom died in August of 1998. Merilyn was a Magdalene Priestess and her Conscious Death impacted the entire community and beyond.
August 18, 1998 at 4:45 pm Priestess/Magdalene Merilyn Massey transitioned from this life to the next. She died heroically, courageously and most importantly she died consciously. Her conscious death is a gift to us all and I am so grateful that I was there to witness her process. I know I am forever transformed by this amazing initiation. Her intent was clear and her strength was phenomenal. What she accomplished in her death was assisted by all who loved her, and through our prayers and our presence.
This is the story of her death.
The Diagnosis
Mid-July I learned my Mother, Merilyn, had advanced cancer that had spread from her rectum to her colon, liver and lungs and she was beyond conventional treatment. The official diagnosis came on July 27th, 1998 and she was told she might have a few months to live. In reality, Merilyn only lived 22 more days. Before the diagnosis, Merilyn wouldn't even consider that she might have cancer. It was as if she couldn't let herself know how sick she was because once she knew she began to fight for her life, but it was too late, the cancer had progressed throughout her body. Some part of herself, her higher self, had chosen this time to die and there was nothing she could do about it even though she made a heroic attempt to survive.
We were immediately referred to an oncologist, and met with him on August 1st. The oncologist was straightforward, telling us that because her blood hemoglobin was .5 she could go into cardiac arrest at any moment. He felt it was a miracle that she was still alive. On August 3 she had a blood transfusion that perked up her energy and gave her more time to look at alternatives. On August 9 my mother and I traveled to an alternative cancer clinic in Tijuana, Mexico.
As we approached the travel date I found myself going into panic and fear. I wondered if it was the right thing to be doing with her? I could see she was declining day by day and death seemed very close to her. I didn't know what I would do if she went into cardiac arrest or worse died while we were in Tijuana. I am not medically trained and this was a situation that stretched me far beyond any comfort zones I had ever known. I felt waves of fear wash over me as we packed our bags and went to the airport.
Tijuana
By the time we arrived at the clinic in Tijuana I could see my mother's strength was waning by the minute. The doctors at the clinic in Tijuana have a great track record for helping cancer patients with no conventional routes of treatment left to them. In my mother's case however, they confirmed for me that her cancer was advanced way beyond even their ability to help her. The trip to the clinic was exhausting for my Mom and I heaved a huge sigh of relief when we crossed the border and arrived back on the American side. I had been told if she died in Mexico it would very difficult to get the body back to the United States.
My intent was to get her home alive, get her as comfortable as possible and then talk to her about how she wanted to handle her death.  We arrived home on August 12th and once she was resting comfortably I found there was a perfect opportunity to ask her if she knew she was dying? I was relieved to hear her say yes. We talked about dying consciously and she said that was her desire and she wanted me to help her. She also wanted to see her Magdalene and Priestess sisters.
Accepting Her Death
Jeff (my husband at the time) and I asked her how she felt about her death? "Peaceful" was her immediate reply. I felt a distinct shift in her energy as she finally admitted she was dying. I felt my own energy shift too, and the hard edge of protection I was carrying in response to her fight for life, and her own resulting hard edge, lifted. Before my eyes I began to see her sweetness come through, a kind of innocence and trust that touched me very deeply.
The next day August 13th we established a relationship with Hospice and that afternoon they had delivered a hospital bed and all the supplies we would need. That day we had no idea she would die five days later. We were also blessed with the ability to provide her with excellent round the clock care. This freed me up to still be able to care for my children and to begin the process of contacting family and our Priestess and Magdalene sisters to let them know if they wanted to see her before she died to come as soon as possible.
I didn't know why at the time, but I did feel an urgency pressing me to encourage everyone to visit as soon as possible. Even though I sensed her death was close, I realized later I still wasn't prepared for the swiftness in which it came.
Each day she talked less and slept more. I took her grandchildren, Jenna and Jeremy to see her on Saturday, August 15th and Ryan and Ian on Sunday, August 16th. They each had a chance to tell her they loved her and give her a hug and she was able to return hugs and tell them she loved them. By Monday all that shifted.
On Monday morning (August 17th) when I arrived she was unable to talk and had begun breathing in a way that I later called her death breath. It was a rhythmic breath in and out her mouth that moved the whole upper part of her body She breathed like this for nearly 40 hours. It was apparent that she was working hard to keep that breath going.
That morning she wasn't able to speak to me. Instead she fixed her eyes on me, staring deeply into my eyes as if she was trying to tell me something. With the intensity of her stare I began to cry. I felt her death was close. I told her I would miss her but it was okay for her to go. As the tears streamed down my face, I told her I would probably cry a lot, because that's how I am, but I was really happy for her. I also told her my sister (from Maine) was coming and would arrive about 4 pm the next day.
Several miracles occurred around this time. One of them was about an unhealed family situation that was challenging me at a very deep level. A couple of days before Merilyn began her death breath I was praying and asking for help with this situation so that I could show up with integrity and grace. As I prayed and asked for guidance I became aware of the Tibetan Goddess Tara.
Tara
A few years earlier a dear friend of mine had introduced me to Tara. Then in 1995 the Tara dances came to town and I was one of the ceremonial dancers. I experienced a profound initiation as a result of performing that dance. When I danced Tara's praises as mentioned in the cremation story I was unexpectedly given the name Sky Dancer. On August 7, 1998 just two days before we left for Tijuana I participated in another Tara dance. The White Tara dance celebrates the aspect of Tara known as Complete Enlightenment and is the aspect of Tara that is the Sky Dancer. Four days before my mother's death I asked Tara for help in dealing with this family situation that was growing more difficult for me. Within hours of my prayers, an unexpected source of support came to me and I knew I was now able to genuinely show up for my mother's transition with the love, integrity, and grace I was desiring.
The Vigil
Jeff and I stayed all day and night with my Mom on Monday August 17. Merilyn's cousin Bill (my second cousin) arrived on Sunday from Pagosa Springs to show his support. In response to my message, the Magadalenes and Priestesses began arriving with flowers for her room. We picked soothing music and chants to play for her and burned lots of incense. We were all helping to set a beautiful ceremonial space for her transition. The Priestesses and Magadalenes also came to visit and sit with her, sing to her, read to her, meditate with her, and just be with her in her death process.
Our attorney friend came that night to sing the Puja to her and chant a Vedic death chant. Through it all, my Mom kept her hands open and receptive, even when someone tried to place her hand palm down she purposefully turned it palm up and open. My dear friend and sister To-Ree-Nee stayed with me through the night on Monday, and I am forever grateful. She held space with me and for me when I was too exhausted to do it anymore. She did ceremony with me and shared her insights about how conscious my Mom was about this process. I was so grateful for her focus, eloquence, and insights. I know Merilyn was too! I am certain it was the presence of the priestesses, as well as Jeff and I that helped to carry her through the night and the next day. Jeff was amazing. His loving presence and stamina far exceeded mine. He showed up as the magnificent priest he is.
Conscious and Courageous
Merilyn's death process was difficult and challenging in many ways. She was terrifying and beautiful to watch. I was awed by her determination and ability to keep her breath going. I knew she was waiting for my sister. The next morning, as Merilyn's rhythmic breath continued I was certain she would not die until Sharon arrived later than afternoon, so I went home to check on Ryan (age 16) who was home from school with a sore throat and get Jeremy (age eight) off to school. My twins Ian and Jenna (age 13) had already caught the bus to Middle School. It was a relief to be out of the energy of my Mom's death process for a couple of hours while I attended to my children.
I felt rejuvenated by the time at home, even though I had only slept in little bits here and there during the night. When I returned, Birke (a priestess sister who had been in my Merilyn's first circle) was sitting with her. We both sat together and watched my Mom's labored breathing process. I felt so comforted by Birke's presence and wondered how I would get through the afternoon once she was gone.
Jeff, Sandy (one of my my Mom's caregivers) and I waited through the afternoon for my sister's arrival. Somehow the time slowly passed seeming to be almost suspended in a time between time sort of way.
I sat in vigil by my Mom's bed, reading to her, chanting, and then dancing the dance to mend the sacred hoop at the foot of her bed. From there I moved into what I felt was a death dance or an honoring of the death process. It felt good to move my body after all that sitting. I danced with purpose and intent to create an energy field of harmony and assistance for my Mom's passing.
Sharon Arrives
Finally, about 4 pm Sharon arrived. I escorted her and her husband into the room, stroked my Mom's hair, told her Sharon had arrived and this is what she had been waiting for. I told her I loved her, kissed her forehead and left the room to give them time alone with her. About 45 minutes later Jeff came for me, giving me just enough time to get into the room before my Mom left her body. My first instinct was to rushed to the foot of the bed and hold her feet. I found myself spontaneously chanting the Tara mantra, and suddenly I felt I was to move to her right side by her head, sweeping the energy from her feet to the crown of her head. I saw my Mom let out her last breath and felt her as a radiant light being whooshing out the top of her head. I called Tara, Kwan Yin, Mother Mary and Mary Magdalene to receive her, and I I felt I could see them welcoming her with open and loving arms.
I realized I was witness to a  butterfly emerging from its cocoon. When I was meditating earlier in the day I had seen beautiful, iridescent blue and green butterflies with colorful, playful fairies riding on their backs swoop in over my Mom's body and sprinkling fairy dust on her, as if they were assisting in giving her the strength to continue her process. I am not one to normally see these kinds of things but the images were so strong and impressed me deeply.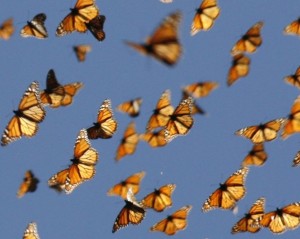 Post Butterfly
On August 12th my Mom stated her intent to die a conscious death and on August 18th she accomplished her intent. She was aware of everyone who came into the room, even though she could no longer talk or look at anyone. She found ways to communicate, through the squeeze of her hand or how she moved her body. My sister asked her for a sign, either a squeeze from her hand or a blink of her eyes to let my sister know my Mom knew she was there. As my Mom took her last breath she did both, she squeezed Sharon's hand and blinked her eyes. What was most remarkable about that was she hadn't blinked her eyes in more than two days. We had tried to close them for her and they just popped back open. Even after her death when we tried to close her eyes they refused to close.
She looked so peaceful even though her body was skeletal and she looked like she had been dead a long, long time. I felt a strong need to do ceremony right away to honor her passing. I did what I could with my sister and her husband sitting on the other side of my Mom's body. I felt awkward and I knew they were uncomfortable.
I was thinking how much I needed a priestess sister present to assist me and to help me focus the energy still lingering from her transition, but all the priestesses in Tucson had already been to visit. About 15 or 20 minutes later I was surprised to hear a knock on the door. When I answered it there stood Phoenix Magdalene Divina del Sol. I was never happier to see her. I told her how perfect her timing was, and she agreed to help me do ceremony with my Mom's body anchoring the connection of the Magadalenes and Priest/esses with Merilyn on the other side.
We went back into my Mom's room and began. Divina felt strongly that my Mom would be working closely with us all in the dreamtime. Unbeknownst to Divina, Bonnie Gaia (from our Magdalene circle) had already had a dream about Merilyn connecting with us in the dreamtime before she died. This confirms that Merilyn is truly an ally for us all if we choose to connect with her.
Merilyn Communicates From the Other Side
On Monday morning after I told Merilyn that my sister was on her way, I was kidding around with her and saying we should have figured out a way for her to signal us from the other side. She was beyond responding to me through words, but she looked at me intently for a long time.
A couple of days before she died Jeff had turned on her computer to pick up her e-mail. At that time everything was working perfectly. The day after her death, Jeff turned on her computer to look for the intention statement she wrote when she began her priestess process, because I had remembered this beautiful piece she had written about becoming a butterfly.
We didn't find the intention statement but what we did find was the date on every document on the computer was now reading 1956, the year I was born. We knew this was my Mom sending us a message from the other side.  Jeff tried to fix the date back to current time but eventually we had to erase the hard drive and reformat it to remove the 1956 date out of her computer.
Another 1956 synchronicity
I included this update on July 31, 2001 in Merilyn's Guest Book (now located here)
Magic Happens! Thanks Mom! What are the odds that I would check into this site…it has been several weeks since I have been here…and just so happen to be visitor number 1956. I am not even sure why I felt called to bring up this site at this time. I am amazed especially when considering it has been almost three years since we posted the site that I would actually visit the site when the number of visitors showing is 1956.
It is also synchronistic because I had just shared with someone in a class I was taking about how your computer had shown every single document and program with the date of 1956 the first time we turned it on after you died, and how I knew that was a message for me since I was born in 1956. I am grateful to know we are still in the magic of our shared connection and it is especially timely for me after being so close to another priestess sister's death from Cancer this past month. I'll just bet you and JanIs Garnet are delighting over this!!! Holding you both with lots of love and gratitude…
The Gift of Merilyn's Death
I feel Merilyn's transition is a gift for us all. She was so conscious and purposeful. I am also realizing she chose this path about two years ago and knew she could not let her conscious mind know. Once she consciously knew she had cancer she began a fight for her life, but it was too late, her fate was in motion and there was no turning back. When I read a prayer to her from The Tibetan Book Of Living and Dying as she continued her death breath, she squeezed Jeff's hand when I got to the last line. We both knew it was her way of letting us know she was excited about the prayer.
The prayer has undergone a few revisions, since then but retains its power and potency.

Conscious Death Prayer from The Tibetan Book of Living and Dying by Guru Rinpoche
adapted by Carolyn Brent (n.k.a. Cayelin Castell)
Envisioning and invoking a presence of light embodying truth, wisdom, love and compassion (i.e. Kwan Yin, Mother Mary, Jesus, Buddha, Healing Angels, etc.) pray thus:
Holy Divine Mother
Through your blessing, grace, and guidance,
through the power of the light that streams from you:
All my negative karma, destructive emotions, obscurations and blockages are purified and transformed, I know myself forgiven for all the harm I have ever thought or done,
I accomplish this profound practice of conscious death and surrender, and die a good and peaceful death, And through the triumph of my death, I benefit all beings,
in all realms and dimensions through out time and space and beyond,
and through this conscious death and surrender,
a new Earth is birthed into a Golden Age
of love, joy, beauty, harmony, peace, plenty, illumination and Sacred Union with all that is.
I give thanks this is done and this is so and all Heaven and Earth rejoice. Blessed Be!
A Good and Peaceful Death
Indeed, Merilyn did die a good and peaceful death that benefited all beings in all realms and dimensions. I respect her death and her choice to be so very conscious. Her death was a demonstration of true courage and love! Thank you all for being such an important part of this profound initiation.
I am so grateful to Gina Dawn for showing up and helping me to focus on the details after Merilyn's passing. I am grateful to everyone who has shown up to help either through their energetic support or just by being present through this process as it continues to unfold. Through all of this I have learned once again that family is not created by blood but by commitment. Our commitment to each other as a community, as family and as priest/esses, in all of life's initiations, is a gift I appreciate more each day. Merilyn's death has birthed a more conscious sense of community and how we can all show up Here and Now as conscious participants in how we live and die and support each other. The story of Merilyn's cremation and the miracle associated with it confirms we are indeed dreaming and living a new reality!
And here is the story of spreading Merilyn's Ashes